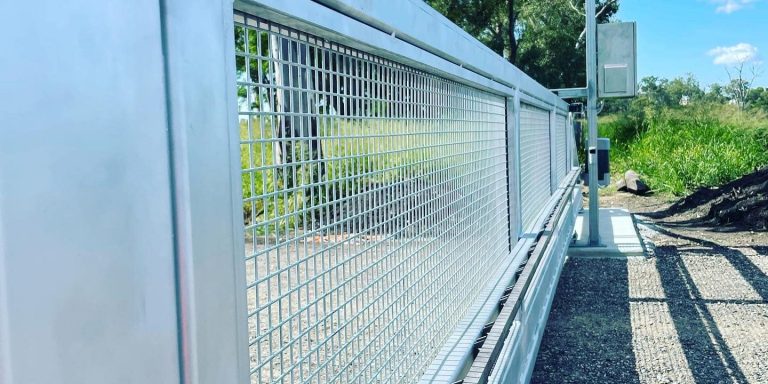 In the aftermath of recent rain and flooding events that have significantly impacted Queensland, farmers are seeking innovative solutions to safeguard their valuable assets. The challenges posed by unpredictable weather conditions and remote locations have driven the adoption of forward-thinking measures.
At Brisbane Automatic Gate Systems, we offer a game-changing solution that not only addresses these challenges but also paves the way towards a sustainable future for farms: solar-powered gates.
Harnessing the Power of the Sun: The Benefits of Solar-Powered Gates
Solar-powered gates have emerged as a beacon of innovation, offering numerous advantages that resonate particularly well with farmers. Let's dive into the benefits that make solar-powered gates a compelling choice for modern agricultural settings:

Environmentally Friendly Operation
One of the standout features of solar-powered gates is their eco-friendliness. By harnessing energy from the sun, these gates operate without relying on conventional power sources. This not only reduces the carbon footprint of your farm but also aligns perfectly with the sustainability values of the modern world. These values can be extremely important to the businesses and people who purchase your products. With solar power, you can safeguard your assets while contributing to a greener environment.
Uninterrupted Access, Even in Remote Areas
Farmers often encounter the challenge of maintaining secure access to their properties, even in remote or off-grid locations. Solar-powered gates provide a seamless solution by eliminating the need for access to mains power. This means that even if your farm is situated in an area with no electricity supply, you can still enjoy the convenience of automated gate access. For peak productivity, your farm should always operate without fear of roadblocks that you can't control.
Cost-Efficiency
Solar-powered gates bring significant cost savings in the long run. With no electricity bills to worry about, you can operate your gate without incurring ongoing expenses. The initial investment in solar panels and batteries pays off as you enjoy years of reliable and economical gate operation.

Low Maintenance
Solar-powered gate systems are designed for low maintenance. The absence of complex wiring and the reliance on natural energy sources translate to reduced wear and tear. This means fewer maintenance requirements and more time for you to focus on what matters most – managing your farm.
Types of Solar-Powered Gates for Farms
Now that we've highlighted the compelling benefits of solar-powered gates, let's delve into the types of gates that farmers can choose from to enhance their property's security and accessibility:
– Swing Gates
Swing gates are a classic choice for farms, offering a blend of functionality and aesthetics. Solar-powered swing gates can be seamlessly integrated into your property's entrance, providing secure access while enhancing the overall visual appeal. Whether you have a small entrance or a wider driveway, solar-powered swing gates can be customised to meet your specific requirements.
– Sliding Gates
Sliding gates are ideal for properties with limited space or uneven terrain. These gates slide horizontally along the fence line, offering smooth and efficient access. With solar-powered sliding gates, you can enjoy the convenience of automation without the need for mains power. This is particularly advantageous for farms where traditional power sources might be inaccessible.
– Telescopic Gates
Telescopic gates are a smart choice when space is at a premium. These gates consist of multiple panels that telescope to the side as they open, ensuring maximum use of available space. Solar-powered telescopic gates are not only practical but also visually appealing, providing an elegant entrance to your farm.

A Solar-Powered Success Story: Our Happy Clients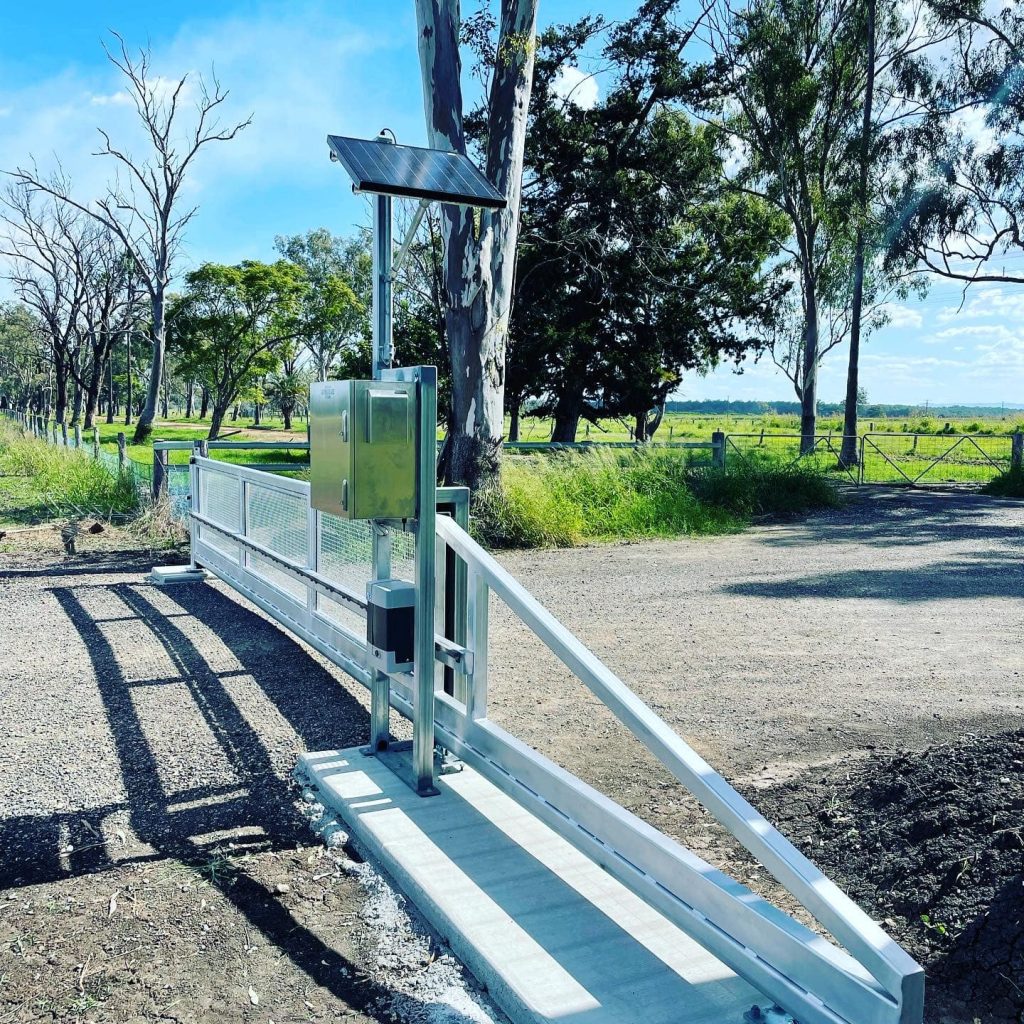 Recently, we worked with clients who faced a common challenge on their farm: their remote site was prone to flooding, and traditional power sources could quickly become out of reach. During some terrible flooding Queensland faced in 2022, the farm was severely impacted.
Our team stepped in with a tailor-made solar-powered gate solution that combined a 40Watt solar panel, 2 – 35Ah batteries, safety photocells, a free exit disc, and a 4G opener for control. The entire system was powered by a commercial-rated 1200kg / 24V gate operator.
This comprehensive setup not only ensured uninterrupted access even during floods but also exemplified the incredible potential of solar-powered gates.
Our clients were over the moon with the results. They now have a reliable, eco-friendly gate system that operates seamlessly despite the challenges posed by their remote location. This success story underscores the versatility and resilience of solar-powered gates in even the most demanding farm environments.
---
A Bright Future with Solar-Powered Gates
As Queensland's climate continues to throw unexpected weather events our way, it's crucial to future-proof your farm's assets. Solar-powered gates offer an ingenious solution that combines sustainability, reliability, and accessibility. At Brisbane Automatic Gate Systems, we are committed to providing farmers with cutting-edge gate solutions that empower them to overcome challenges and embrace a brighter, greener future.
To explore the possibilities of solar-powered gates for your farm, reach out to us today. Let's collaborate to create a gate system that not only meets your needs but also contributes to a more sustainable agricultural landscape.