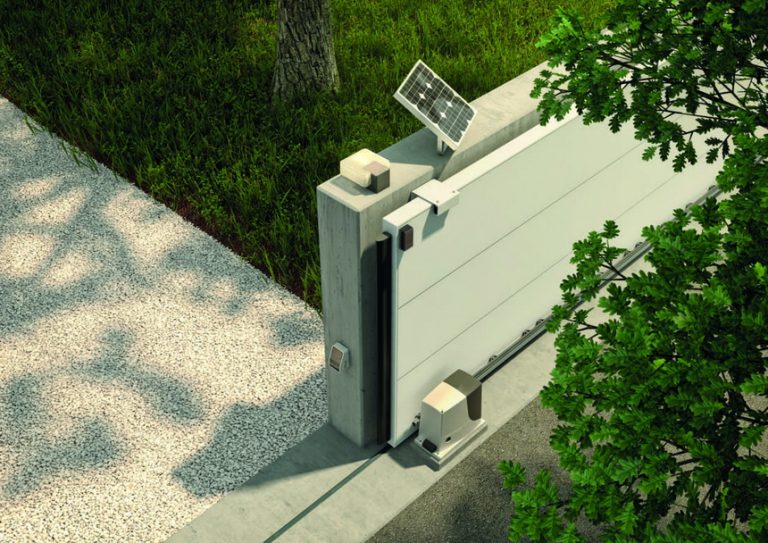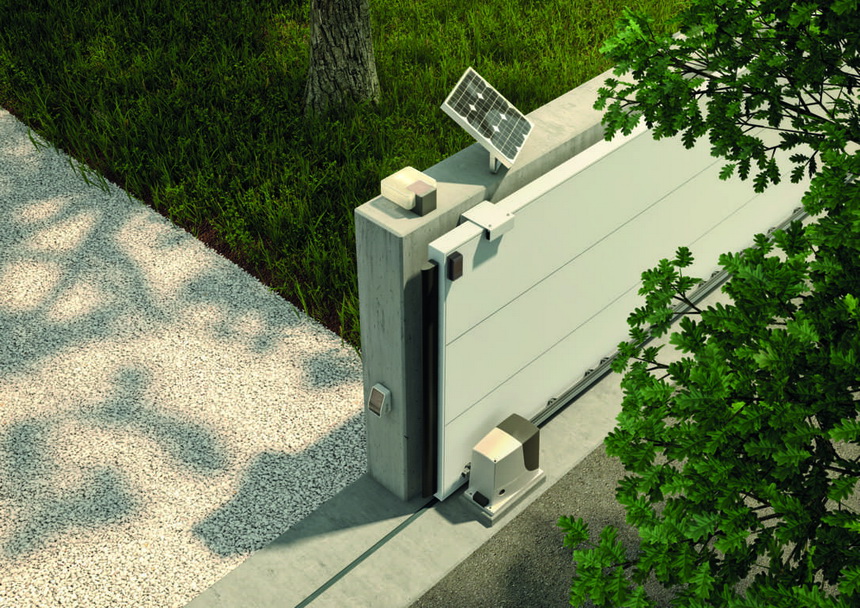 If you have a gate for your home, or are thinking about installing one, an electric gate opener will make your life so much easier.
A residential gate provides many benefits to you and your family. Namely, it will:
protect your family
protect your pets
protect your possessions
prevent unwanted visitors and salespeople!
Residential gates aren't just functional; many modern designs are also visually stunning. They give the outside of your house a definite 'lift'. So much so, your neighbours will want one too!
When choosing what kind of gate to install on your home, consider the many benefits of an automatic gate that uses an electric gate opener. It'll save you time, hassle, and provide extra layers of security.
How electric gate openers work
With an electric gate opener, you can open and close your gate with the push of a button, while still inside your car.
This is very useful:
during bad weather
when you're in a hurry
to protect you when coming home late at night.
What are the benefits of electric gate openers
There are numerous benefits to installing an automatic gate with an electric gate opener. But in the end, all these benefits come down to 4 very valuable things:
safety
privacy
convenience
style.
Can you think of 4 more important qualities you'd like a product for your house to provide?
Our range of electric gate openers
At Brisbane Automatic Gate Systems (BAGS), we have a range of electric gate openers (also called 'electric gate motors') to suit your home.
Our electric gate motors will work with every style of gate, size of gate, and weight of gate. We also have several solar powered gate openers that are perfect for lowering your electricity usage. They're also great as a means for providing power if you have a long driveway or large property.
Look at the products in our range of electric gate openers.
Trust us with your automatic residential gate
The BAGS team are experts in their field, with over 20 years experience with gate systems. We've left a trail of satisfied customers all across Brisbane.
If you'd like to read some of the things our customers have said about us, head over to our testimonials page.
Contact us
If you would like to talk to us about installing an automatic gate with electric gate opener at your home, contact us today.
We can explain the features of our products and help you to choose the right one for you and your family.
More and more people are turning to automation, not only in their lives, work place but in the way their home is run via automated heating, Lighting etc. Its no different when it comes to your entrance way. Automated driveway gates create the perfect security and design along with the ease of use through automation. When you arrive home after a long day at work, the last thing you can be bothered doing is getting out of your car to open your gate, especially if the weather is on wet and miserable side. This is why most people prefer to get remote control gates for their homes, the gates are installed along with a car remote access keychain (automated).

Automated Gates: The Way Forward
Remote control gates can be operated by a battery-powered remote by just aiming the remote on the gate upon arrival, and it'll open electronically. For some, getting remote control gates is a great option for ease and security. Here are a few reasons why:
Remote control gates are automatically controlled.
Instead of having to manually open your gates every single time you arrive with your car, you can save time, energy and gas by just aiming the remote on the gate and it'll open in its own accord. This is useful especially for people who do not have all the luxury of time and don't really want to bother having to manage the opening and closing of their gates every single time they arrive home. Remote Controlled Gates can be great option for people with disabilities, the elderly, or physically impaired.
Remote control gates are thief resistant.
Being electronically operated, they open only to the people who are holding the remote. Unlike traditional gates that can be hacked by breaking through the metal grates or climbed over, some remote control gates have electronic sensors that detect unwanted pressure on top or around it, and can send alarms to the proper security. Some home alarms are also attached to the gates to detect any unwanted or forced entry. This way, the proper authorities are alerted upon the unwanted entry and can catch the thieves before they can make a getaway.
Remote control gates save you time.
Have you ever experienced running late for work and then be bothered by having to open a giant gate, run to get your car out, and then back out of the car just to close the gates? Annoying isn't it? This is why having remote-operated gates are more convenient. Lets face it we do prefer the luxuries in life. If you have a new home or business entrance and would like to automate your gates, contact us today.
Our remote controls come in a variety of colors and designs, stylish and unique idea to suit your personality.
Some Direct Links Here
Nice Range
Nice-robus-400 Stone
Nice-robus-400 Transmitters
Nice-robo-500  Wall plaques
Nice-robo-500  Gate Transmitter
When to choose a swing gate opener
A swing gate is a great option for residential, commercial and industrial sites.
Style is also important, especially for homeowners. That's why many prefer the elegant functionality of inward swinging gates.
What types of swing gates can you buy?
At Brisbane Automatic Gate Systems (BAGS), we can install:
Single swing gates
As the name suggests, single swing gates are made up of one large gate that swings inward across the driveway of your property.
Single swing gates are easy to install and economical to run.
Also, they can be opened and closed with the push of a button while you're still in you car.
Single swing gates can be used in entranceways up to 5 metres wide. If your entrance is bigger than this, you're going to need a double swing gate.
Double swing gates
Double swing gates part in the middle and swing inwards across your driveway.
These gates can also be operated by remote from your car.
Double swing gates can be installed in entranceways up to 10 metres wide.
Will a swing gate opener work on my property?
Remember that installing a swing gate and automatic opener isn't just about how much space you have across the front entrance—it's also about how long your driveway is.
If you have a swing gate that's 5 metres wide, you'll need more than 5 metres space in your driveway so that the gate can swing freely.
If you have a double swing gate that's 10 metres wide, you'll need the same amount of space in both directions, as each gate will swing inward at a reach of 5 metres.
Do you have enough free space for swing gates?
Being able to install a swing gate means having enough free space on your driveway. So, while you might have adequate space on paper, think about what else happens on your driveway.
For example:
Do you have another car that usually parks in the driveway and might reduce the amount of space you have for swing gates?
Do you have young children or pets that play in the front yard and who may get in the way of a swinging gate?
Are there trees or other objects that would be hard to move in your front yard?
Find out more about swing gates openers
To find out more, read our pages about swing gates and why you should automate your entrance.
Would you prefer a sliding gate opener?
Choosing the right kind of gate opener—sliding or swing—for your property is very important.
If you think a sliding gate might be a better fit for your needs, head over to our sliding gates page.