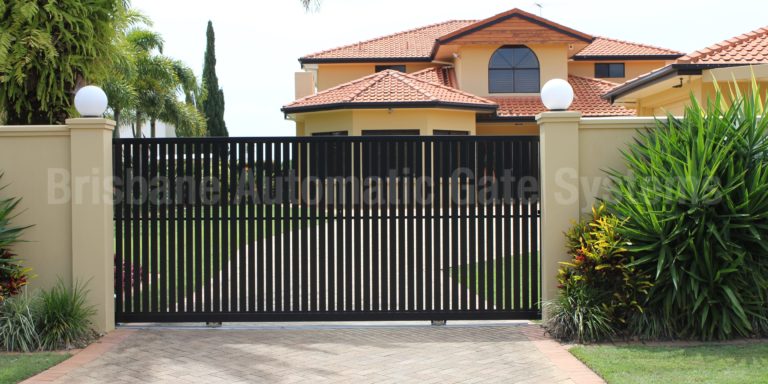 Safety is the main priority for many property owners. Property owners are starting to realise the benefits of having a basic home security system such as a security gate. As we have addressed before, the rise in house prices is a cause of high density living in Australia. So added security measures such as automatic gates are always an upside to any family home.
Many families find themselves to be at peace when they have the added security measure of a security gate. Especially families with young children and pets. These families are more at ease knowing that their family and their assets are secure and protected.
But the question comes, which is the right security gate for your home?
Here at Brisbane Automatic Gate Systems, we specialise in a number of security gates that can fit in with any home. In particular, our sliding gates and swing gates are the most popular for homeowners and we have many different automatic gate designs for you to choose from.
Sliding automatic gates
Sliding gates are perfect for many homes as they are easily customizable (as they can be made from a number of products, such as steel or aluminium). But they are also a very cost-effective gating system for residential homes. The only downside to a sliding gate is the need for a long, narrow channel in order for the gate to slide across. However, they do not require a deep-set driveway because the gate does not swing out.
Swing automatic gates
Swing gates on the other hand are perfect for home owners who wish to make a statement. They are very stylish and very safe. As we mentioned just before, swing gates require quite a large amount of space in the front of the gate in order to swing open. These types of gates also require more information such as dimensions and weight prior to design, manufacture and installation.
Automatic gate designs
In that being said, if you know what type of gating system to choose, then you would want to look at the different options for automatic gate designs. Brisbane Automatic Gate Systems offers customers the opportunity to custom design their gate to match their home.
Many customers incorporate parts of their house into their gate to tie the gate and property together. Because we have access to such a wide range of materials and styles, our designers are able to incorporate virtually any material to ensure the quality and functionality of any custom-made automatic gate.
If you would like more information on gates for homes and residential properties and the different types of automatic gate designs, please do not hesitate to contact our friendly team at Brisbane Automatic Gates today for a free quote.