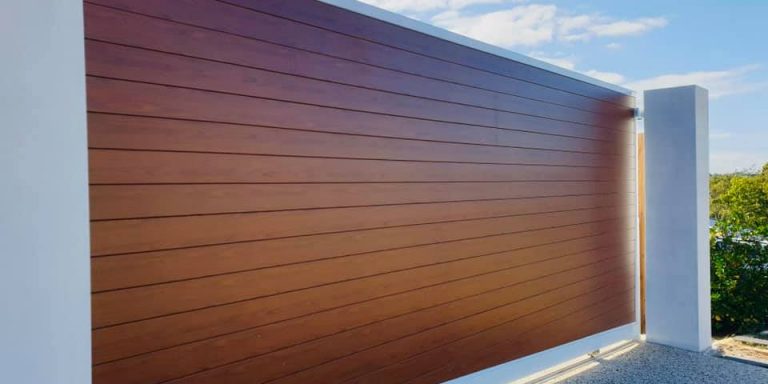 When it comes to gate design, the timeless appeal of timber is undeniable. The warmth, texture, and classic charm of wood have made timber gates a popular choice for generations. However, traditional timber gates come with their share of challenges, including susceptibility to rot, pests, and the need for regular maintenance. That's where timber-look gates, made from alternative materials, step in to offer a compelling solution.
In this guide, we'll explore the world of timber-look gates, which replicate the appearance of wood while offering durability, low maintenance, and a range of practical benefits. Whether you're considering a gate upgrade or installing a new one, understanding the options available can help you make an informed decision.
Are Timber Look Materials the Best Option for You?
Materials That Mimic Timber
Timber-look gates achieve their authentic appearance through carefully selected materials. The primary alternatives to real wood are vinyl, composite, and aluminium. Here's a closer look at each:
Vinyl Gates: Timber-Look Elegance with Minimal Upkeep
Vinyl gates have gained popularity for their ability to mimic wood's warmth and texture without the drawbacks.
A key advantage of vinyl gates is that they are impervious to moisture, making them an ideal choice for areas with high humidity or frequent rain. Unlike real wood, vinyl doesn't attract termites or other pests. Maintaining a vinyl gate is a breeze. A simple wipe-down with soapy water keeps it looking pristine.

Composite Gates: The Perfect Timber Alternative
Composite gates are engineered to replicate wood's appearance while offering exceptional durability. Advantages of composite gates include:
Durability: Composite materials resist rot, warping and splintering, ensuring a longer lifespan.
Low Maintenance: They require minimal upkeep, making them a cost-effective choice over time.
Realistic Texture: Composite gates often feature a wood-like texture that adds to their authentic look.
Aluminium Gates: Timber-Styled Elegance with Strength
Aluminium gates designed to resemble timber provide a unique combination of aesthetics and strength. Some benefits of aluminium gates include:
Lightweight: Aluminium gates are lighter than real wood, reducing stress on hinges and motors.
Rust Resistance: Aluminium doesn't corrode, ensuring longevity even in damp conditions.
Minimal Maintenance: They require virtually no maintenance compared to real wood.
Timber-Look Gates vs. Real Wood: Pros and Cons
Choosing between timber-look gates and traditional timber gates involves considering various factors. Let's explore the pros and cons of each option:
Timber-Look Gates:
Pros:
Durability: They resist rot, insects, and warping, offering a longer lifespan.
Low Maintenance: Minimal upkeep is required, resulting in cost savings.
Aesthetic Variety: They come in various styles and finishes to suit your property.
Cons:
Cost: Timber-look gates may have a higher upfront cost than basic timber gates.
Authenticity: While they closely resemble wood, some purists may still prefer real timber.
Traditional Timber Gates:
Pros:
Classic Appeal: Genuine wood gates have a timeless aesthetic that many homeowners adore.
Customisation: Timber gates can be custom-made to suit unique design preferences.
Cons:
Maintenance: They require regular upkeep, including staining or painting.
Susceptibility: Timber gates can rot, warp, or become damaged over time.

Choosing the Right Faux Timber Gate for Your Home
Selecting the ideal timber-look gate material for your property involves careful consideration. Here are some factors to keep in mind:
Climate: Consider your local climate and how different materials withstand it. For humid or rainy areas, vinyl or composite gates excel. In coastal regions, rust-resistant aluminium gates are a smart choice.
Budget: Determine your budget, factoring in not only the initial cost but also long-term maintenance expenses. While timber-look gates may have a higher upfront price, they often offer cost savings over time due to their durability and low maintenance.
Aesthetics: Choose a gate material and design that complements your property's architectural style. Timber-look gates come in various finishes and styles, allowing you to find the perfect match.
Consultation: Consider consulting with gate professionals like Brisbane Automatic Gate Systems. We can provide expert advice based on your specific needs and preferences.
Maintaining the Timber-Look: Care Tips for Your Gates
One of the standout features of timber-look gates made from alternative materials is their low maintenance requirements. However, here are some care tips to keep your gate looking pristine:
Regular Cleaning: A simple wash with soapy water and a soft brush will remove dirt and grime. Rinse thoroughly to prevent residue buildup.
Inspection: Periodically inspect your gate for any signs of wear or damage. Address issues promptly to prevent further damage.
Re-staining (if applicable): Some composite gates may benefit from occasional re-staining to maintain their appearance. Follow the manufacturer's recommendations for staining products and frequency.
Gate Installation by Brisbane Automatic Gate Systems
When it comes to installing your timber-look gate, entrusting the job to professionals like Brisbane Automatic Gate Systems can make a world of difference. Here's how our expertise can benefit you:
Professional Installation: Brisbane Automatic Gate Systems offers expert installation services to ensure your gate is fitted correctly and operates smoothly.
Customisation: We can tailor the gate to your specific requirements, including size, style, and features.
Gate Automation: If you desire automated gate access, our expert team can seamlessly integrate the necessary systems, ensuring convenience and security.
Longevity: Professional installation enhances the gate's longevity, reducing the risk of issues that may arise from improper fitting.
Maintenance Guidance: Brisbane Automatic Gate Systems can provide guidance on gate maintenance, ensuring its longevity and continued performance.
---
Timber-look gates offer the best of both worlds: the captivating aesthetics of timber without the hassles of high maintenance. Whether you choose vinyl, composite, or aluminium, these alternatives provide durability, low upkeep, and a wide range of design options. Make an informed choice by considering your climate, budget, and style preferences.
When it comes to installation and maintenance, trust the experts at Brisbane Automatic Gate Systems to ensure your gate operates flawlessly and adds lasting value to your property. Say goodbye to the drawbacks of traditional timber gates and embrace the elegance and practicality of timber-look alternatives.
We'd love to help you create your ideal gate! Contact us now.