When it comes to enhancing the curb appeal and security of your property, the entrance gate plays a crucial role. The gate is not only a functional element but serves as a statement piece that sets the tone for your property's aesthetics. If you're looking for a gate that stands out from the rest, look no further than our custom gates with a unique automatic gate design.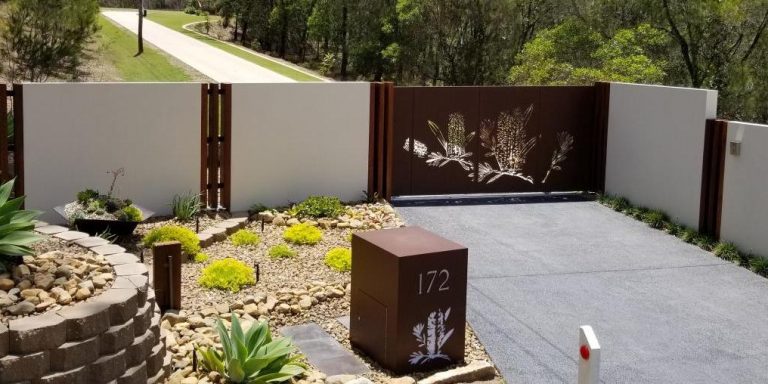 What are the benefits of a custom made and designed gate?
1. Unleashing Creativity with Aluminium Laser Cut Gates
At Brisbane Automatic Gate Systems, we take pride in offering a wide range of custom gate designs to suit the unique tastes and preferences of our valued clients. Among our most distinctive creations are our aluminium gates, which are expertly laser-cut with intricate designs. The beauty of aluminium lies not only in its durability and low maintenance but also in its versatility. It can be fashioned into a variety of captivating patterns and motifs.
Our skilled artisans craft these laser-cut gates ensuring that every detail exudes elegance and individuality. Whether you desire flowing floral patterns, geometric shapes, or intricate scrollwork, our aluminium laser-cut gates can be tailored to your specific vision, creating a gate that is truly one-of-a-kind.
The laser-cutting process allows us to achieve intricate designs that add a touch of sophistication and uniqueness to your gate. From traditional motifs to contemporary patterns, our team can work with you to design a gate that complements your property's architectural style and reflects your personal taste.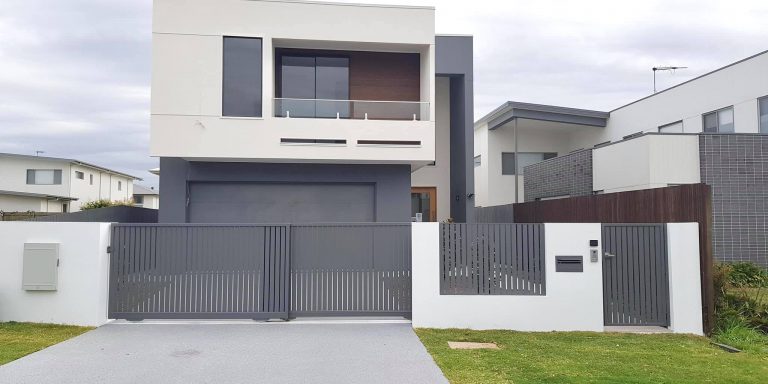 2. Embracing the Allure of Custom-Made Gates
When it comes to custom gates, the possibilities are limitless. At Brisbane Automatic Gate Systems, we embrace the beauty of individuality and understand that each property is unique. This is why all our gates are custom-made, allowing you to unleash your creativity and design a gate that perfectly complements your property's architecture and style.
Our team of skilled designers and craftsmen work closely with you to understand your vision and requirements. Whether you envision a gate that exudes a rustic charm or a gate with modern aesthetics, we have the expertise to bring your dream gate to life. With attention to detail and a focus on quality, we ensure that every custom gate we create is a work of art that enhances the overall allure of your property.
From charming Hampton-style gates that exude coastal elegance to sophisticated telescopic gates that offer seamless functionality, our team can bring your dream gate to life. Whether you prefer the classic charm of swing gates or the space-saving efficiency of lifting gates, we have the expertise to design and install gates that are tailor-made to suit your needs.
3. Customising Your Gate With Perfect Colours
The aesthetics of a house make a huge difference in making it feel like home. Whether you want a bold, modern and highly contrasted entrance to your home, a sweet, cottage-like facade, or a coastal vibe that makes you feel like you're on holiday the moment you step onto the property, the right gate can be the key.
At Brisbane Automatic Gate Systems,we believe colour is an essential aspect of gate design. Our custom gates are not limited to a select few shades; instead, we offer an extensive palette of colours to choose from. From classic whites to bold blacks, earthy tones to vibrant hues, you have the freedom to select a colour that resonates with your personal style and complements the overall aesthetics of your property.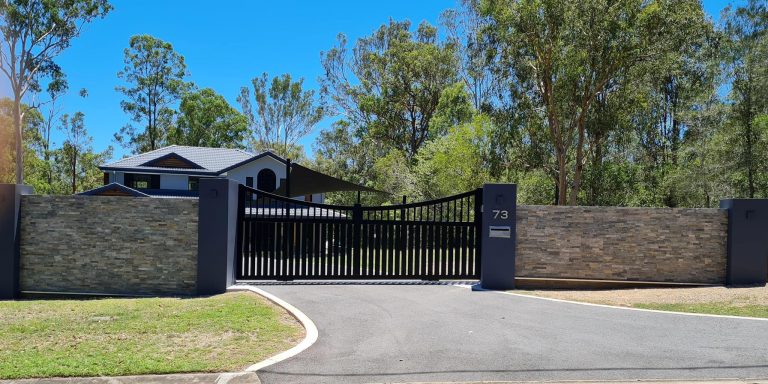 4. The Seamless Blend of Beauty and Functionality
A gate is more than decoration. Although it can and should blend into your property beautifully and enhance its curb appeal, a gate should be equipped with robust locking mechanisms and state-of-the-art automation technology for seamless operation.
While our custom gates boast exquisite designs and personalised colours, we never compromise on functionality and security. Our priority is to provide gates that not only impress visually but also offer top-notch performance and reliability. Our expert team ensures that every gate is crafted with precision engineering and top-quality materials, guaranteeing longevity and smooth operation for years to come.
Furthermore, we take into account the specific requirements of your property and the available space to ensure that the gate fits perfectly and functions optimally. Whether you opt for a swinging gate, a sliding gate, or a lifting swing gate, we guarantee that your custom gate will not only enhance the beauty of your property but also provide the security and privacy you deserve.
---
When you choose Brisbane Automatic Gate Systems, you open the door to boundless creativity and unrivalled craftsmanship. Our unique automatic gate design offers a delightful fusion of beauty, functionality, and security. With gates that can be laser-cut into captivating patterns and the freedom to customise style, colour,and operation, you can create an entrance to your home that is as unique as your imagination allows.
Contact us today to embark on the journey of crafting a gate that beautifully reflects your style, enhances your property's allure, and provides the security and privacy you deserve. At Brisbane Automatic Gate Systems, we are committed to bringing your dream gate to life and turning your vision into a breathtaking reality.
Get a quote for your bespoke gate.